A COMPLETE E-COMMERCE SOLUTION
Webshop & Order Portal
Want to acquire new clients and improve your market share? A Shoxl Wholesale Webshop means you can compete at the digital level. And the highest level at that. Offering appeal and facilities based around high-quality design, powerful filter and search facilities, and a smooth order process with many options for submitting bulk orders quickly.
Customer portal
The Shoxl customer portal gives your existing clients direct access to their ERP – which is exceptionally important for client satisfaction and retention. Lower order thresholds mean increased turnover. In addition, everything that clients can do themselves, lowers the pressure on your own back-office.
Scan App
The Shoxl ScannerApp lets your prospects, customers, and representatives rapidly compile an order list by scanning barcodes. In addition, the App functions as a full-fledged webshop. Clients who install your App will be treated to a front-and-center image of your company and assortment on their mobile devices.
B2B WEBSHOPS FOR WHOLESALE
A B2B webshop can differ from a consumer market webshop many areas.
You offer many kinds of similar items, and use item tables extensively.
You want to display some items more prominently in their groups than others.
Clients all have their own price and discount arrangements.
Not all parts of your assortment are intended for all clients.
Orders are generally large, and your clients want to be able to submit order lines quickly.
Client employees should be able to make their own orders within certain budgets.
Your clients may use their own purchasing systems to order from you directly.
The data you need for an order is very specific to your branch.
You have multiple offices and therefore multiple pick-up points.
And so on. Each of these facilities is one you would be hard-pressed to find in a solution for the B2C market, yet each is supported by Shoxl as standard.
YOUR ERP AT THE CORE
Your ERP system is the lynchpin of your company, and your processes and other systems are closely calibrated to its parameters. With Shoxl e-commerce for wholesale, this principle remains 100% intact.
Orders flow directly into your back-office where they are handled exactly the same as orders from other channels.
You document all prices and discount agreements in your preferred manner, and signed in clients are shown their own prices directly.
You give clients access to the shop via your ERP, and revoke this access if need be.
Products that you activate or deactivate for particular client groups will automatically appear in or disappear from your shop and portal.
There is never a need for double data entry to ensure its availability in the shopping platform. Using Shoxl means having a new sales and service channel – but not a new process.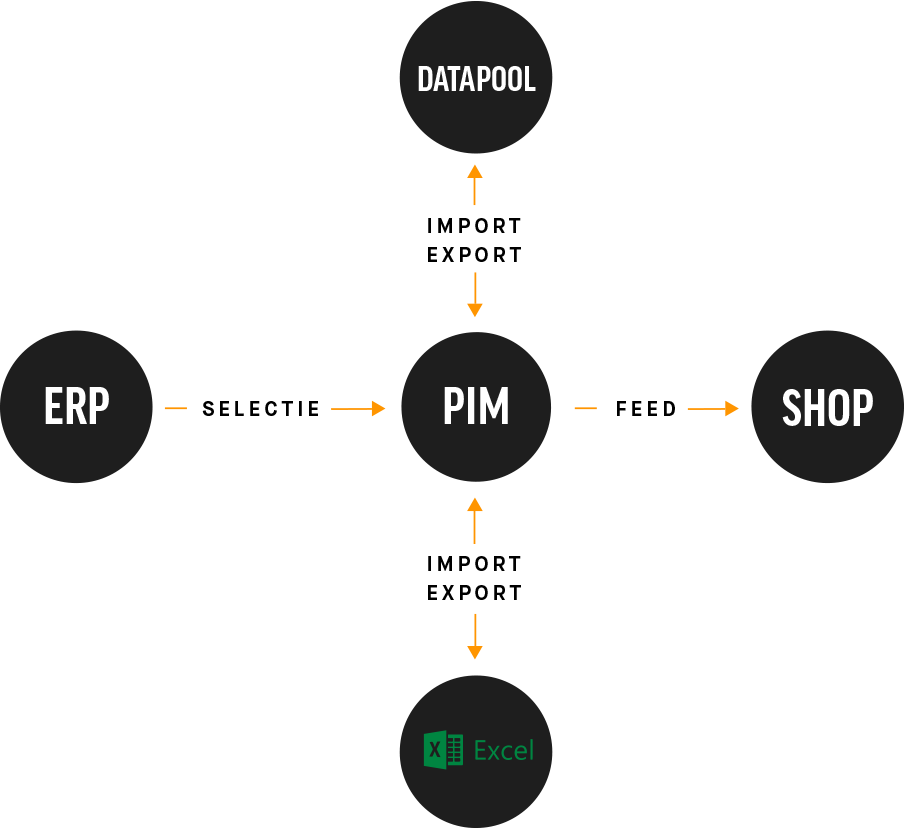 PRODUCT DATA MANAGEMENT FOR WHOLESALE
For wholesale, product data tends to come from many different suppliers each using their own data format. To make this data useable in a webshop, it must be standardized. The same applies for images, commercial descriptions, and, most importantly, product characteristics.
The Shoxl PIM system provides powerful facilities for import/export into Excel. Any data inconsistencies quickly become evident, and quick bulk mutations become possible. The PIM system has no limits in terms of the number of products, product characteristics, or classifications.
If you are using an external data pool, like EZ-base or 2BA, then you can let Shoxl use the standard interfaces with these data resources. You can use the data as-is, or allow it to upload to the Shoxl PIM before using in your shop.
More about het Shoxl PIM
Interested in e-commerce selection?
"We are Shoxl and we approve this message", and we obviously feel that our solution would be perfect for your business, and worth considering. The following paragraph aims to answer your most important questions.

We are more than happy to tell you more to ensure that you can make the best, and most well-informed decision for your company.
Contact
REALLY TOUGH, WHAT IS THE MOST IMPORTANT DIFFERENCE BETWEEN ALL OF THESE E-COMMERCE SOLUTIONS?
When choosing between e-commerce solutions, the best thing to do is ask yourself whether you are looking for an "all-in-one" or a "best-in-breed" approach. Shoxl is a member of the second category.
We believe that there is no supplier who excels in each of the fields that are important for e-commerce success. Therefore, it becomes important to choose the approach that permanently offers you the flexibility to change between suppliers for certain components to ensure that you continue to be able to make use of specialist power.
AND THAT IS IT?
Well, while we still have your attention, we would like to point out the differences between B2B and B2C e-commerce. B2C solutions are not necessarily the best choice for B2B environments. And vice versa, of course, but we feel that we have a solution that that will benefit both fields. Wholesalers who are keen to cater to consumers should definitely invest in Shoxl.
WILL THE SHOP WORK FOR OUR ERP SYSTEM?
Shoxl works excellent with a broad range of ERP systems out-of-the-box. Consider the various SAP, Dynamics and Exact variants. But even if your specific ERP system is not yet on our list there is no cause for concern. Shoxl has all the tools to interface with even the most inaccessible ERP-systems.
COULD YOU EXPLAIN THAT "ERP-DRIVEN E-COMMERCE"-BIT A LITTLE FURTHER?
ERP-driven e-commerce bases itself on your current processes and ERP-system. The goal is to introduce a new sales and service channel with as few interruptions as possible. You continue to work in your preferred manner, but now the orders automatically arrive in your ERP – offering your front-office some slack as your clients are provided with the necessary information online.
For our assortment of around 50000 active items, we use Shoxl as our primary PIM system. This works excellently, also in combination with our ERP. For part of our assortment, we are switching to EZ-base as our data pool, and we have the highest expectation of the combination of these systems.
Roy Broods / Commercial director
Steenkist