Out-of-the-box available
and cloud-based
The Shoxl ordering portal for Exact is a standard product, and therefore immediately deployable and available. The order portal runs completely in the cloud. Nothing needs to be installed locally.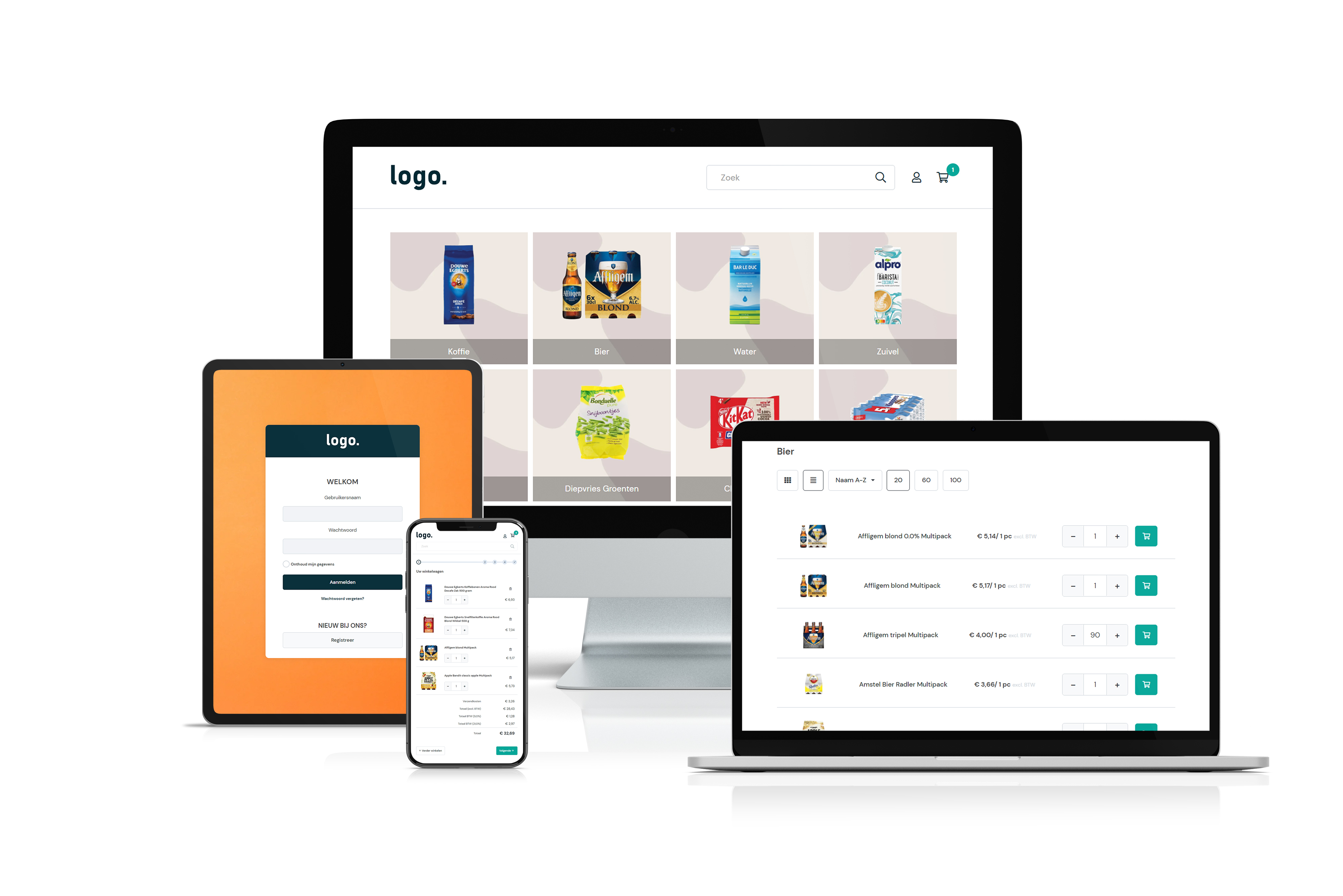 Order online
Visitors will see (after login) the item categories you have defined in Exact in the form of tiles. Clicking on a category will give access to a list of all the articles which you have linked to that category. From that list you can either place an order directly or you can click through to a item screen with a little more detail, including available stock.
The price for an item for a customer is calculated by first checking whether there are any specific price agreements with that customer. If that is not the case, it is checked whether the item appears in the price list linked to the customer, or in a general price list. If no customer-specific price is found, the gross article price is used.
For account reps
The (optional) sales representative module enables your sales representatives to use the order portal to enter the orders from their customers through the order portal.
In Exact you specify who acts as a relationship manager / account manager for a customer. When a representative logs in a list of all the linked customers appears. The representative selects the customer concerned and can enter the order.
Convenient Check Out Process
After the shopping cart is filled, a clear and fast ordering process follows. Invoice and shipping addresses Invoice and shipping addresses are retrieved from Exact. The same goes for payment methods, payment terms and any payment terms and discounts. If a customer isn't allowed to buy on credit they won't be able to do so either; the option will not be shown in the portal. And if you want to have your customers pay online a link to Payment Service Provider Mollie is available.
My Account
The "my account" section of the order portal displays the order history, including current orders with their status.
One useful part of the order history is to add orders back into the shopping cart. The shopping basket can also be quickly filled by uploading a simple Excel file with item numbers and quantities. In addition, the "my account" section offers the ability to have a list of favorite items added to the order basker in one action.
In short, with the portal your customer gets a handy tool in his/her hands that makes ordering easier and faster.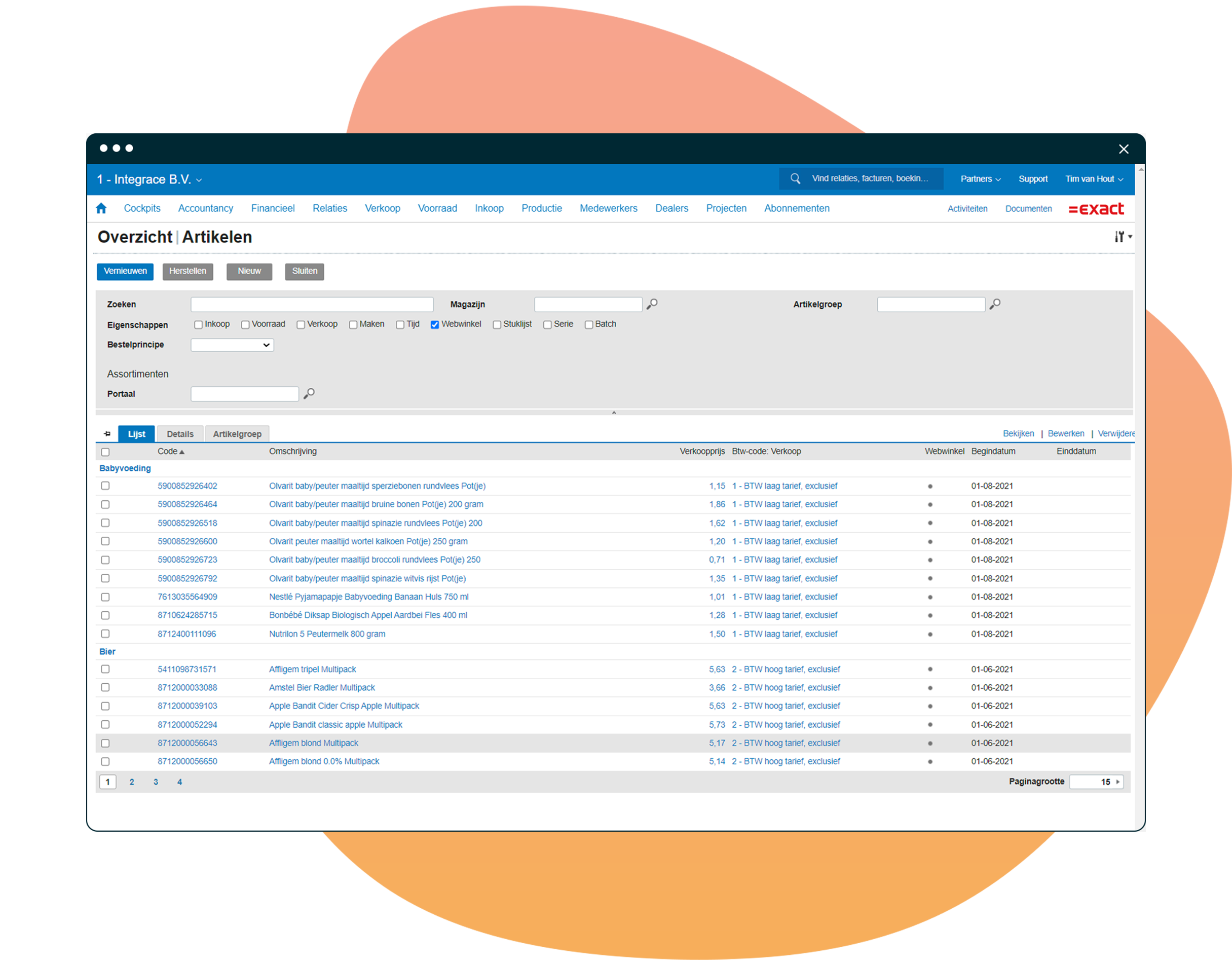 Manage in Exact
To manage your Exact ordering portal you use.... indeed, Exact, and nothing but Exact.
Giving a customer access to the portal requires nothing more than a simple check mark in Exact. For the Selecting the items you want to include is the same. For the management of prices and prices and stock information you don't have to do anything extra. automatically in Exact and you handle them just like any other order.
The management effort involved in the order portal is therefore minimal. A Shoxl order portal will quickly become a normal part of your business operations, requiring little extra attention.
Completely cloud-based
Because your order portal runs completely in the cloud, you don't have to worry about it. No technical management, always equipped with the latest security updates, and always up-to-date in terms of version.
Responsive
The ordering portal knows what platform (desktop, tablet, mobile) it is being viewed on, and is automatically optimized for that platform. Your customer orders just as easily from the couch as from behind the desk.
Exact limits
The portal respects Exact's strict rules regarding the number of retrievals. By storing relatively static data (data that does not change often) locally you also benefit from better performance.
Neutral design
Your order portal has a neutral design, which can be adapted to your corporate identity in terms of main colors and logo. The portal therefore always integrates seamlessly with your other online expressions.
Our own URL
Your portal will be available by default on the domain [yourshopname].shoxl.shop. But just as easily we run the portal on your own domain, and send all customer communications from your custom URL.
Growing seamlessly
Shoxl order portals are part of a family of e-commerce products. Need ordering options for passers-by? Doing business in more languages? Your own design? You can easily switch to a Shoxl Shop for Exact.
Choose the plan that's right for you

Shoxl for Exact Portal Edition is available in 4 versions, which differ in the maximum size of the assortment presented. In the premium version you also have the Shoxl PIM system.

For all versions up to Premium, a free trial period of 1 month applies. .
Premium
For Exact Online/Globe
on-demand
You can switch to a higher version in the meantime. All amounts are per month excluding VAT. The contract period is 1 year. Contracts are automatically renewed for another year, unless terminated at least 1 month before the renewal date.