A complete e-commerce
environment for Exact
The Shoxl e-commerce platform for Exact provides you with all the components necessary for an e-commerce solution around Exact. With the combination of these components you can put together any e-commerce solution.
The complete solution consists of a webshop, an Exact Connector, a PIM system for managing commercial product information and a CMS for creating and maintaining general content.
You can add a webshop to your existing site, or completely replace that site with a site/shop combo. You can give access only to your existing customers, or you can also focus on new target groups. You can present partial assortments to specific target groups, or even create completely customer-specific shops. create completely customer-specific shops.
With a Shoxl webshop for Exact the only limit is your imagination.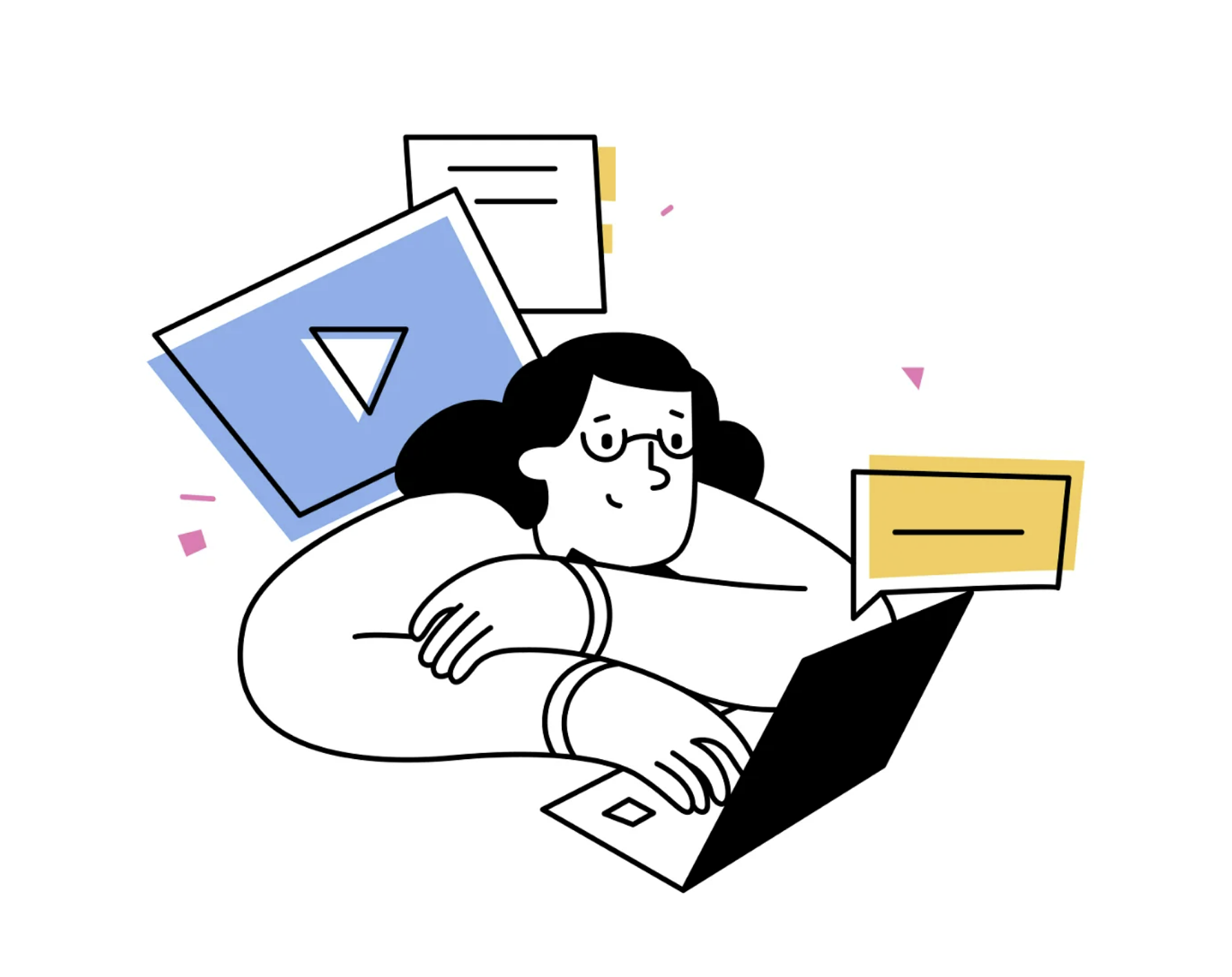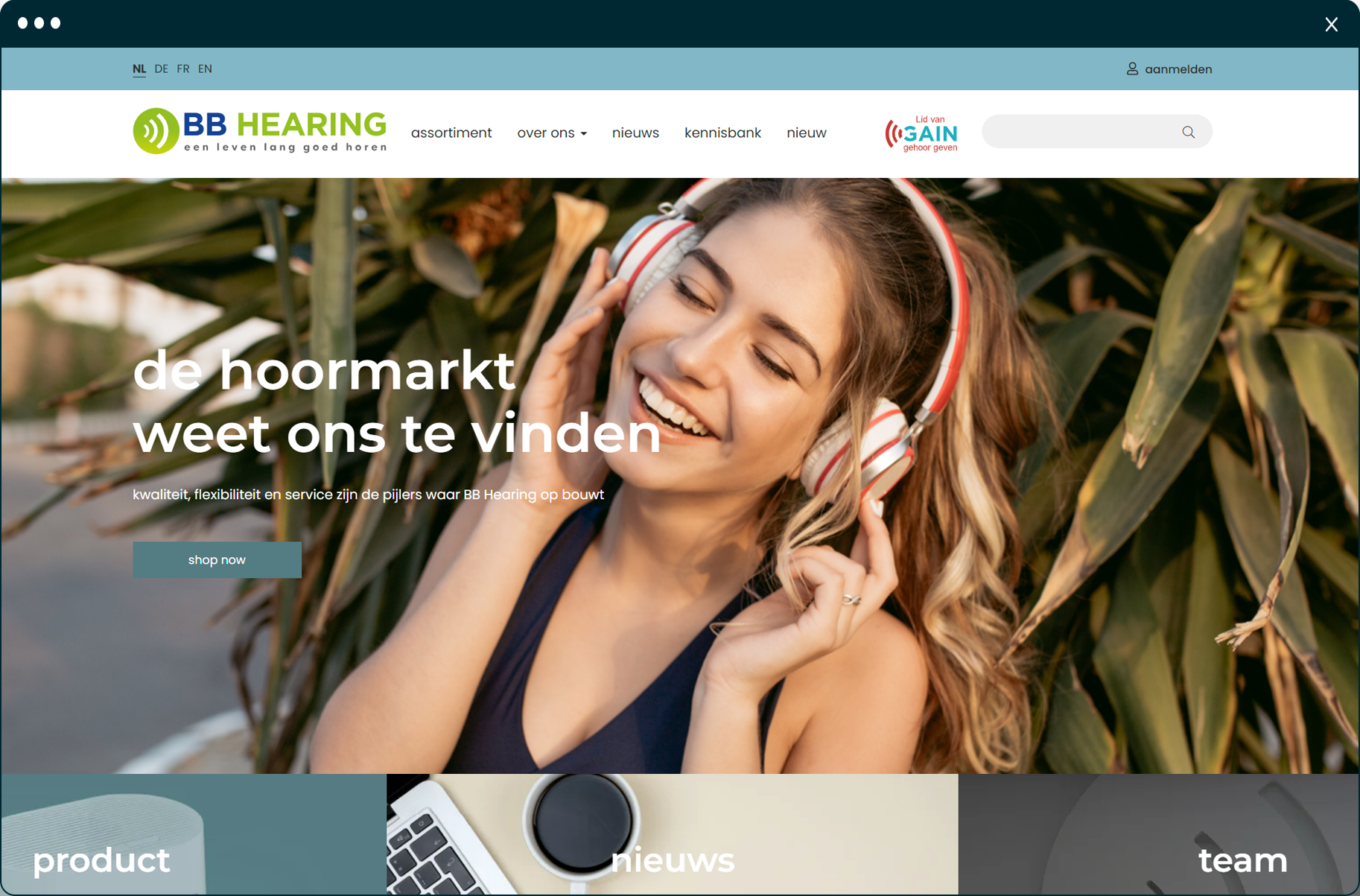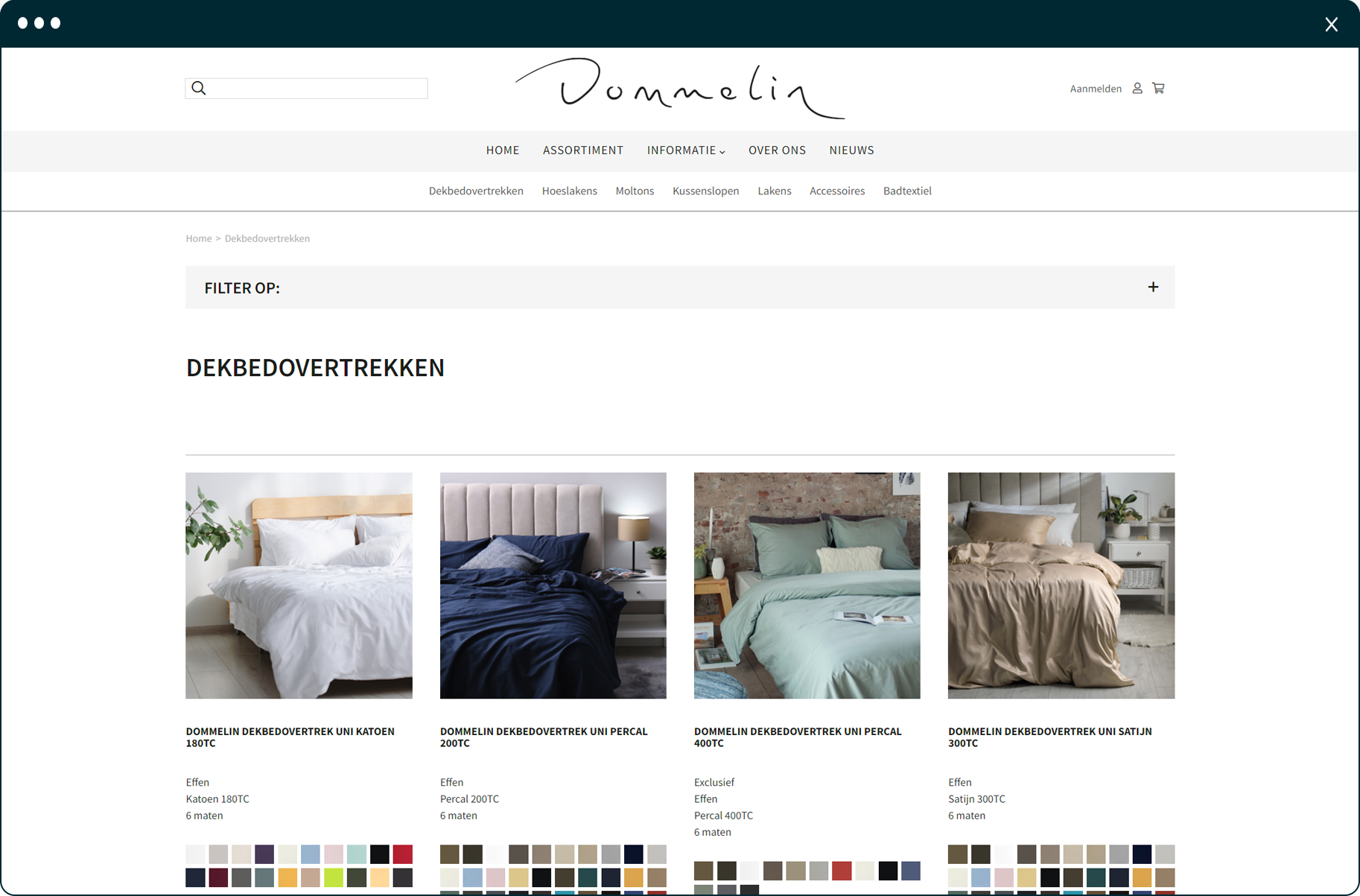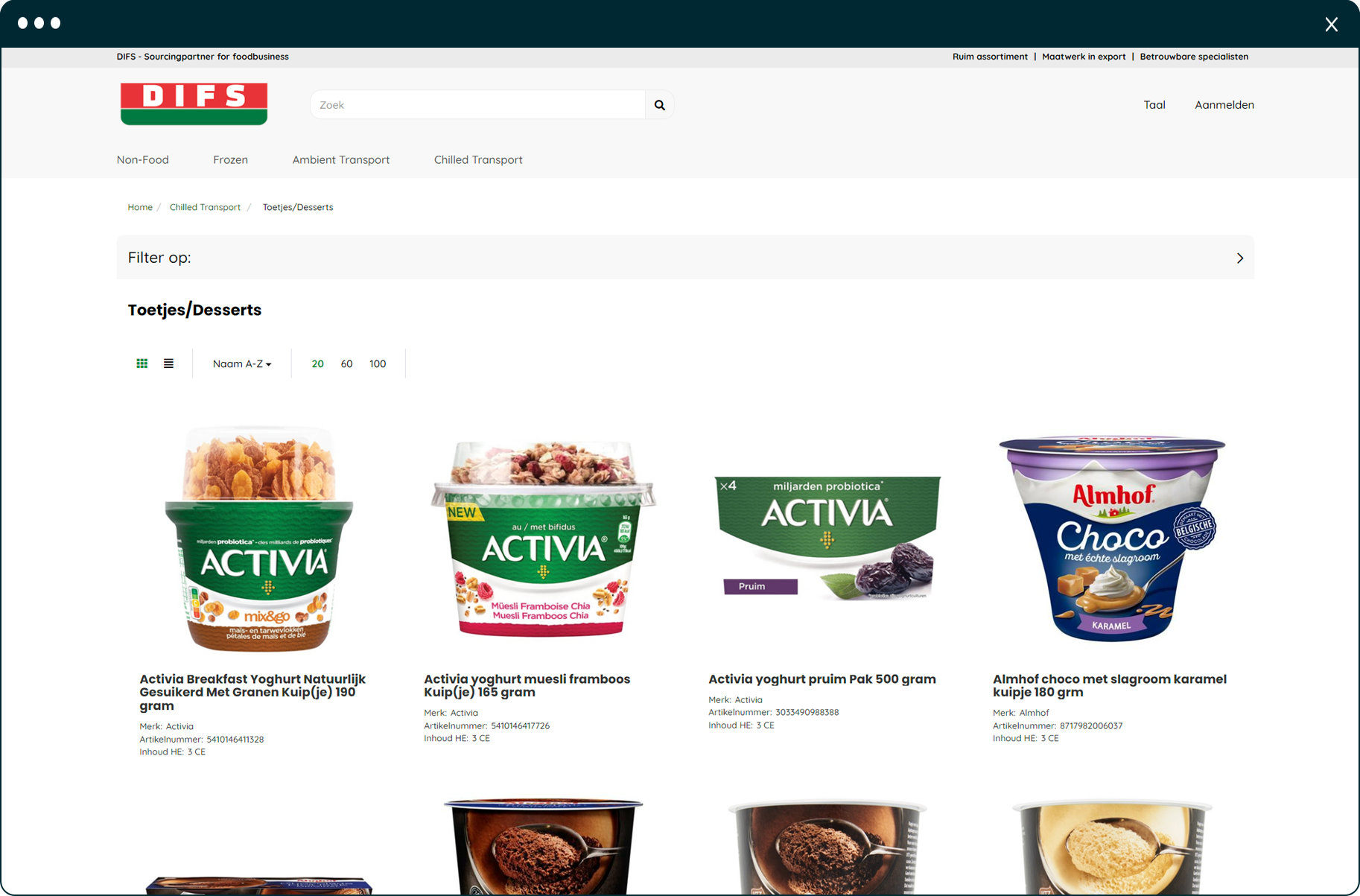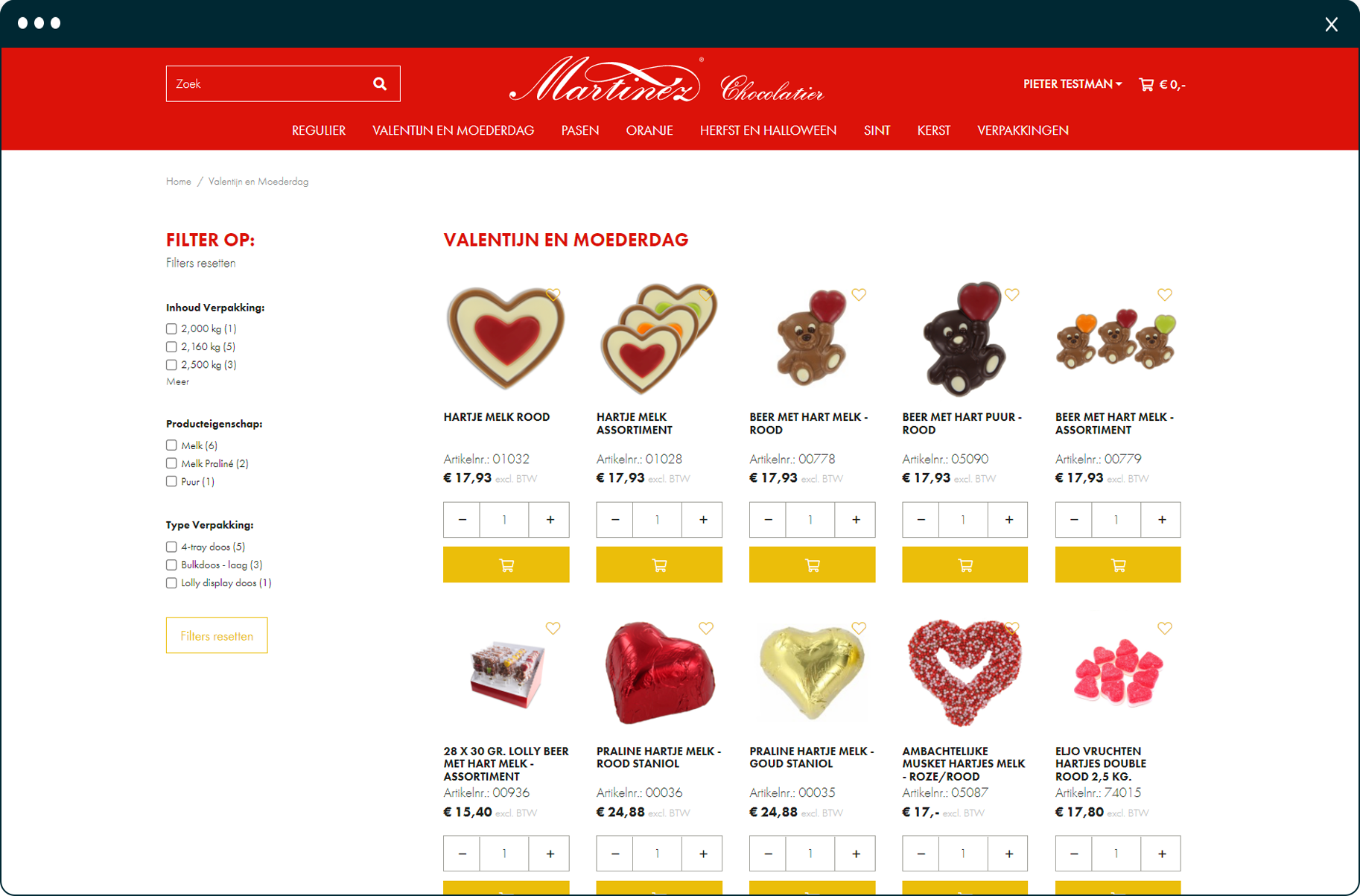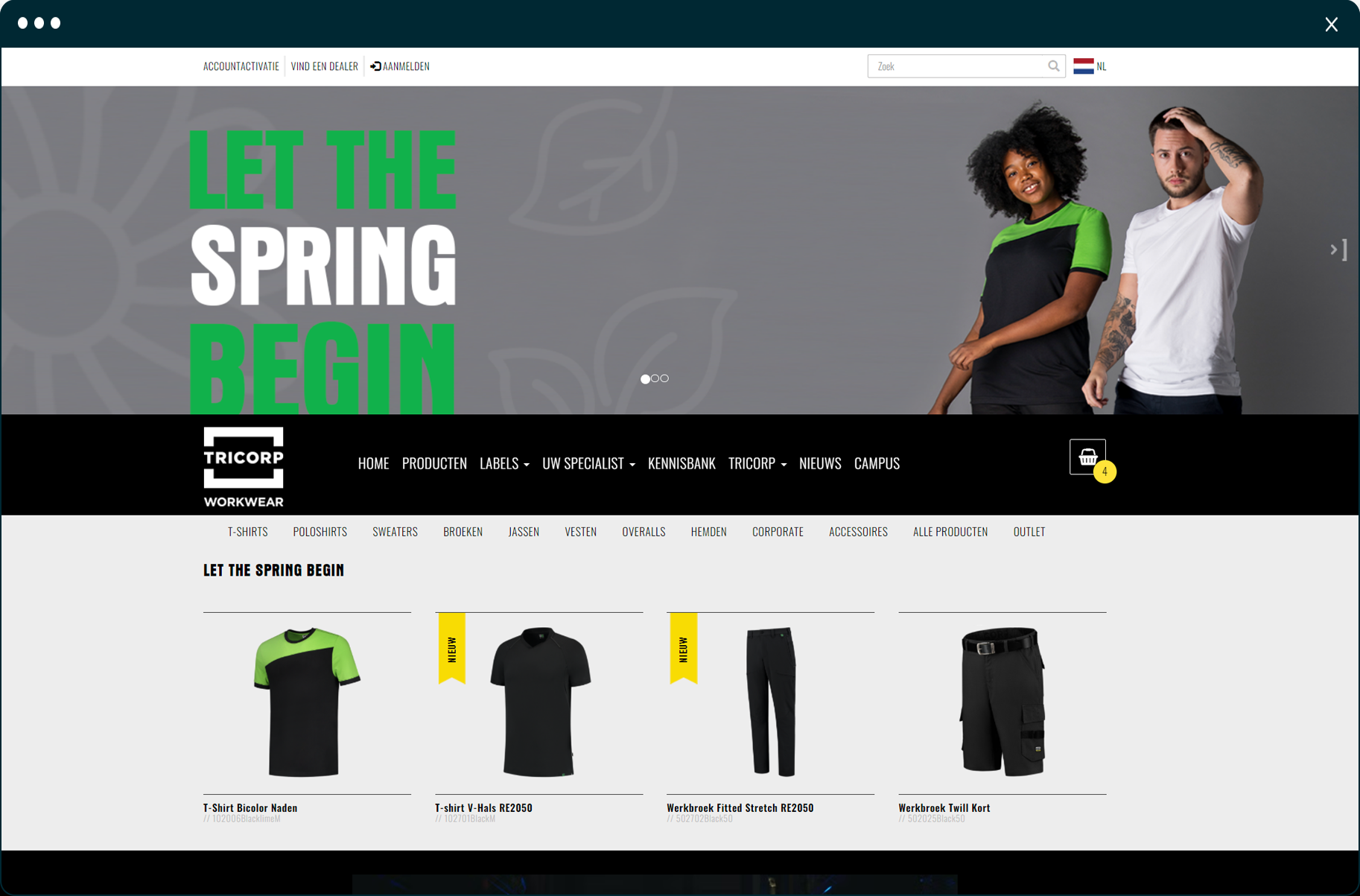 Webshop
The core of a Shoxl Exact Webshop consists of 3 components: a product catalog, search and filter facilities, and a clear checkout process.
PRODUCTCATALOGUE
Shoxl webshops are suitable for both relatively small and homogenous assortments and for very large and diverse assortments.
POWERFUL FILTERING
The Shoxl e-commerce framework includes unique technology with which the set of filters on a category page or at a search result is built fully automated.
STRAIGHTFORWARD ORDERING
The Shoxl ordering process is straight-forward and simple. Customers only see the options and information defined for them in Exact, such as billing addresses and payment options.
Design
In the Shoxl Business Edition, you choose from a set of predefined and proven layouts. These offer you a convenient and quick step up, as there is no need to think about the structure of each page. All design elements (colors, fonts, images) can then be freely selected, so that you can create a shop with a unique look.
In the Shoxl Enterprise Edition we work a little differently: Here, every page that is part of your shop is composed according to your wishes. You get a custom layout based on the available building blocks. For this option, too, it goes without saying that you are completely free in all design elements.
Shoxl shops are never the same, and are always fully in line with your corporate identity.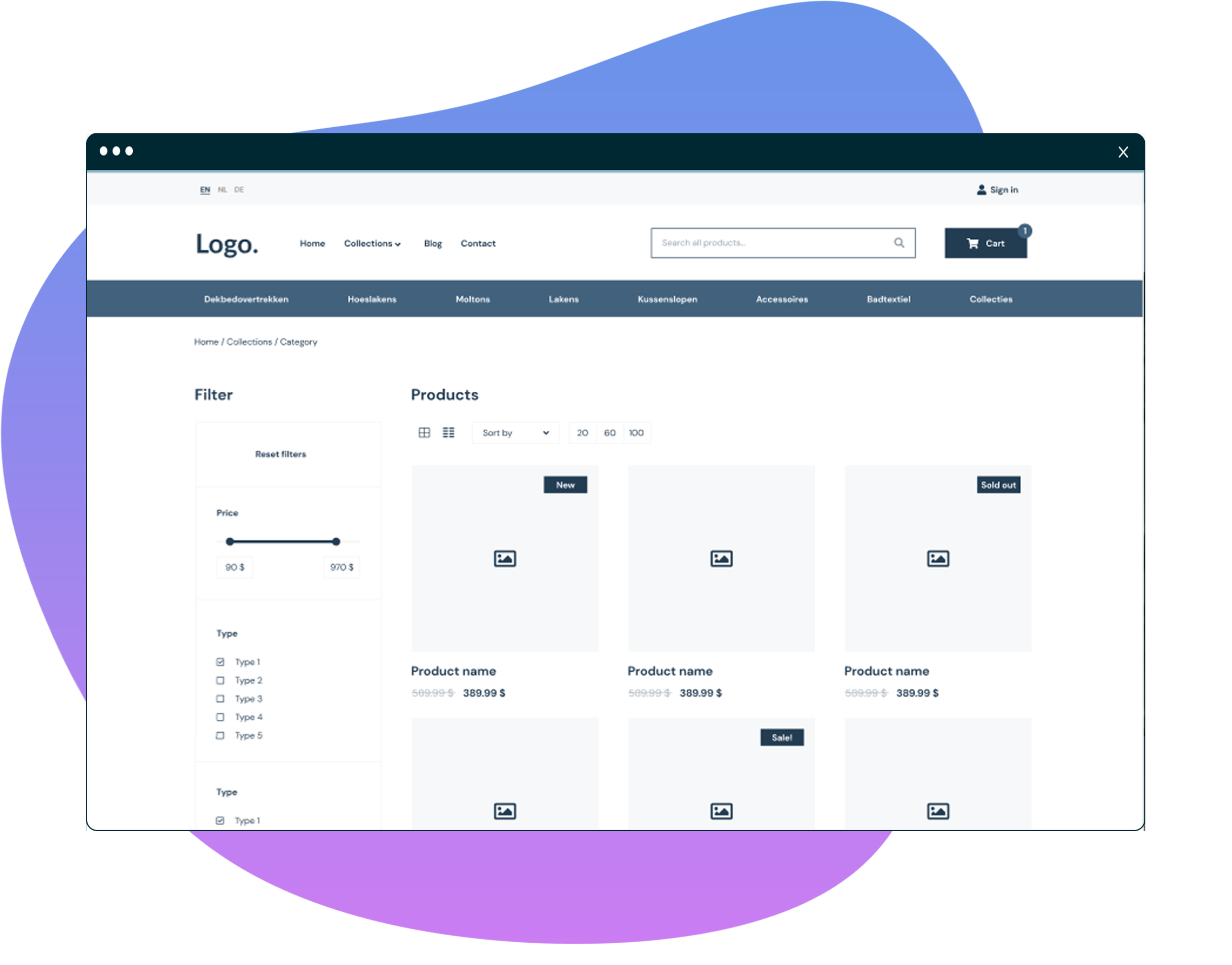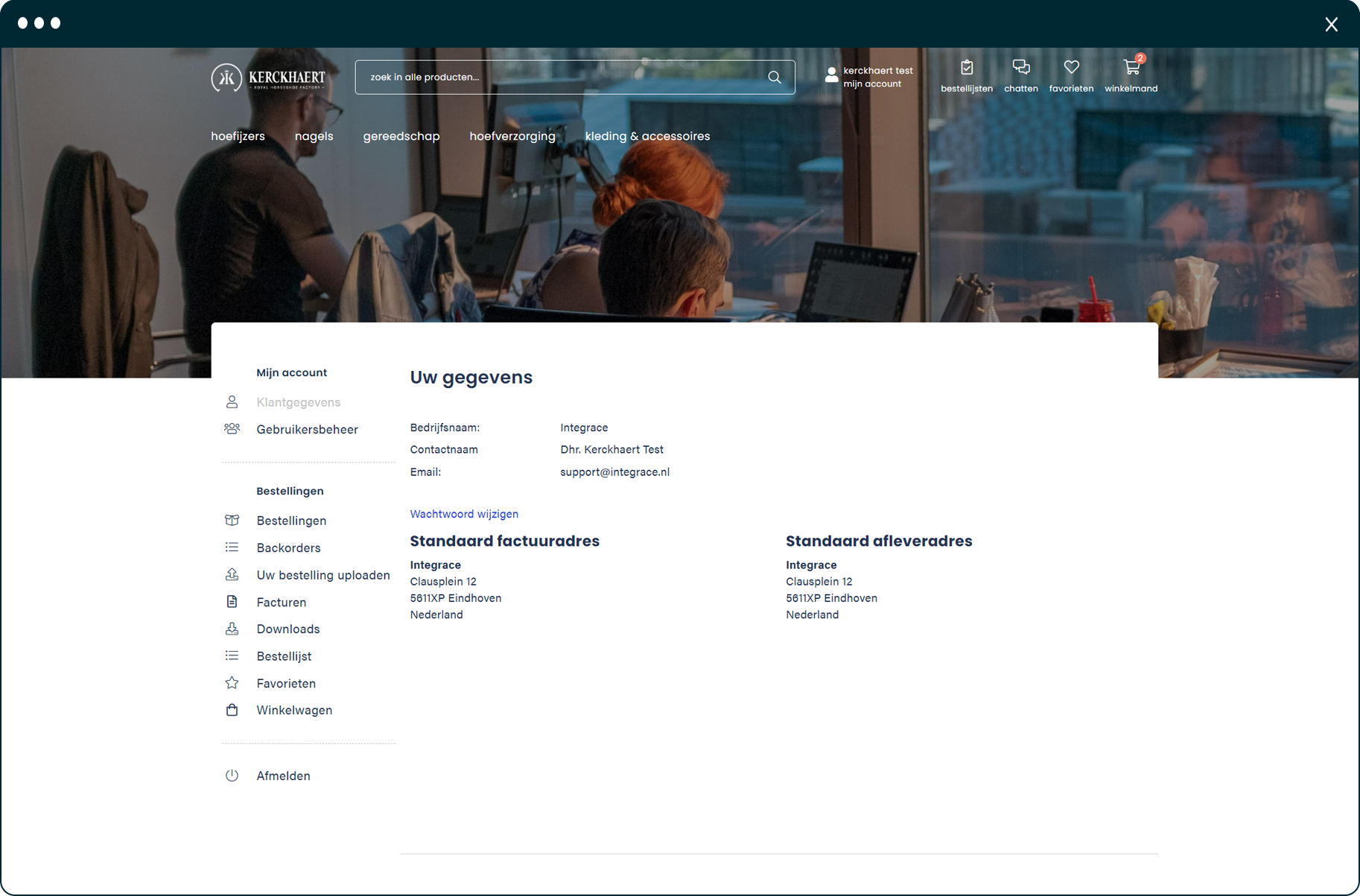 My Account
The "my account" section of your Shoxl Webshop for Exact displays the order history, including the current orders with their status. In addition, back orders and invoices can be viewed in this section.
From the order history, your customer can quickly re-order by placing a repeat order. Quick ordering is also possible by uploading a simple CSV file with item numbers and quantities.. In addition, the "my account" section offers the possibility to create a list of favorite items which can be added to an order in one go.
Manage YOUR EXACT WEBSHOP
Your Exact webshop is a logical extension of your Exact installation. Exact plays a central role in the management of your shop. All the information that you can't manage in Exact is managed in Vendisto PIM and Vendisto CMS, the two Shoxl management components of your shop.
Exact Integration
Exact is leading the way in the Shoxl/Exact combination. Our simple philosophy boils down to the fact that we never build anything something that is already present in Exact. In the Shoxl environment you will only find the components which are missing in Exact.
Great advantage of this approach is that there can never be any inconsistencies between the data in Exact and the data in the shop. After all the data is retrieved from Exact. This includes Customer information, contacts, payment conditions, product information, gross and net customer prices, stock, orders, back orders and invoices.
Who has access to the shop and which products are included in it is determined in Exact. Product no longer available in Exact means: product no longer visible in the shop. New customer: Customer added in Exact and the customer can access the shop.
This 100% integration with Exact means that shop management will soon become part of the normal normal business operations.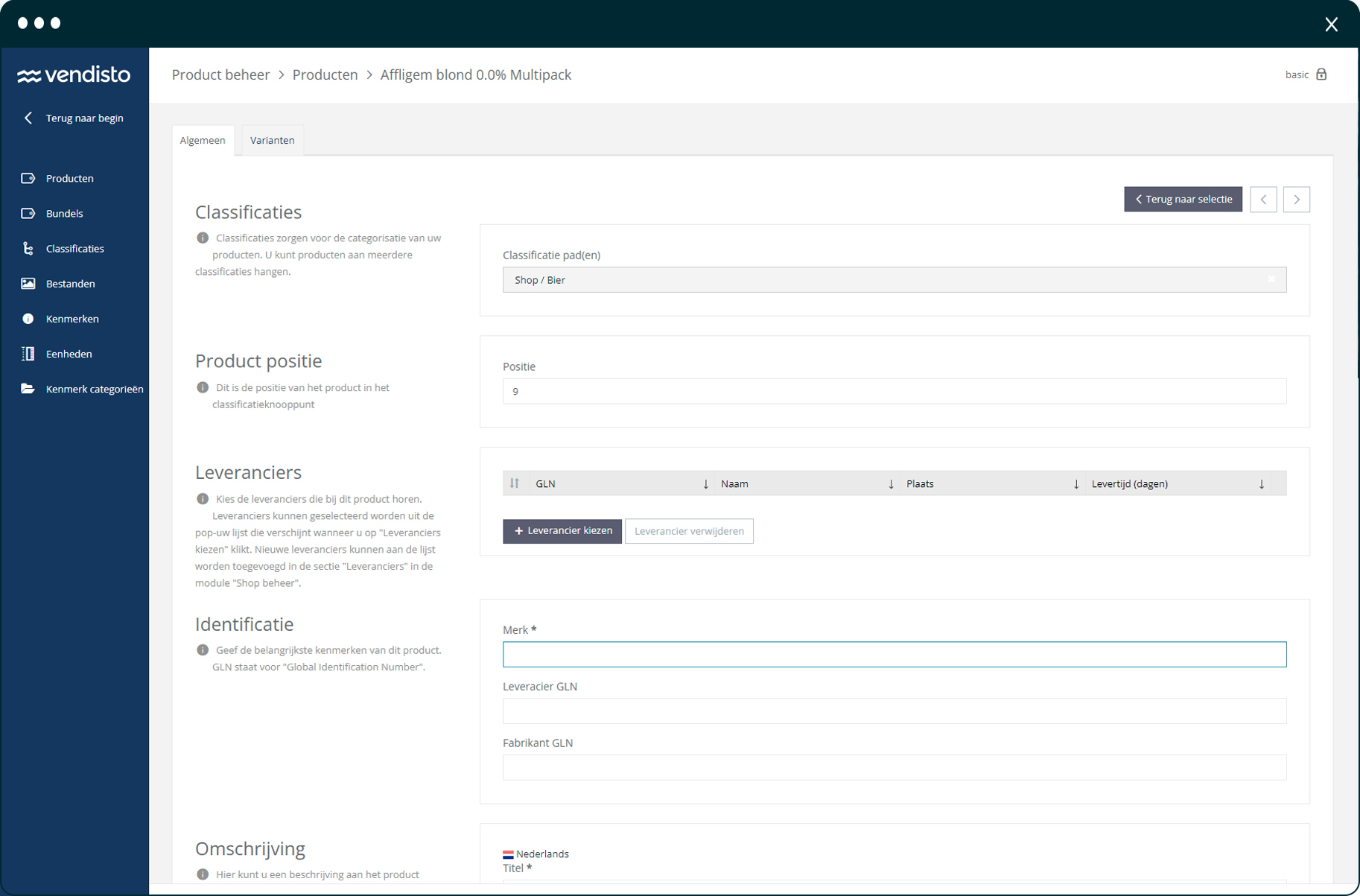 PIM
The Shoxl PIM (Product Information Management) system offers you a central repository for all the commercial product information you need in your your shop, but cannot store in Exact. Examples of this are:

Additional image and video material
Documents such as brochures and manuals
Commercial texts, with a little more selling power than the product descriptions in your ERP
Product characteristics, which can be the basis for filters
Product classifications, so you can divide your assortment logically
Item groups, to group all the variants of an article
Product relationships, to point the visitor to complementary or substitute products

The PIM system works closely with your Exact installation. Assortment changes in Exact will automatically be visible in the PIM system so you can complement the information.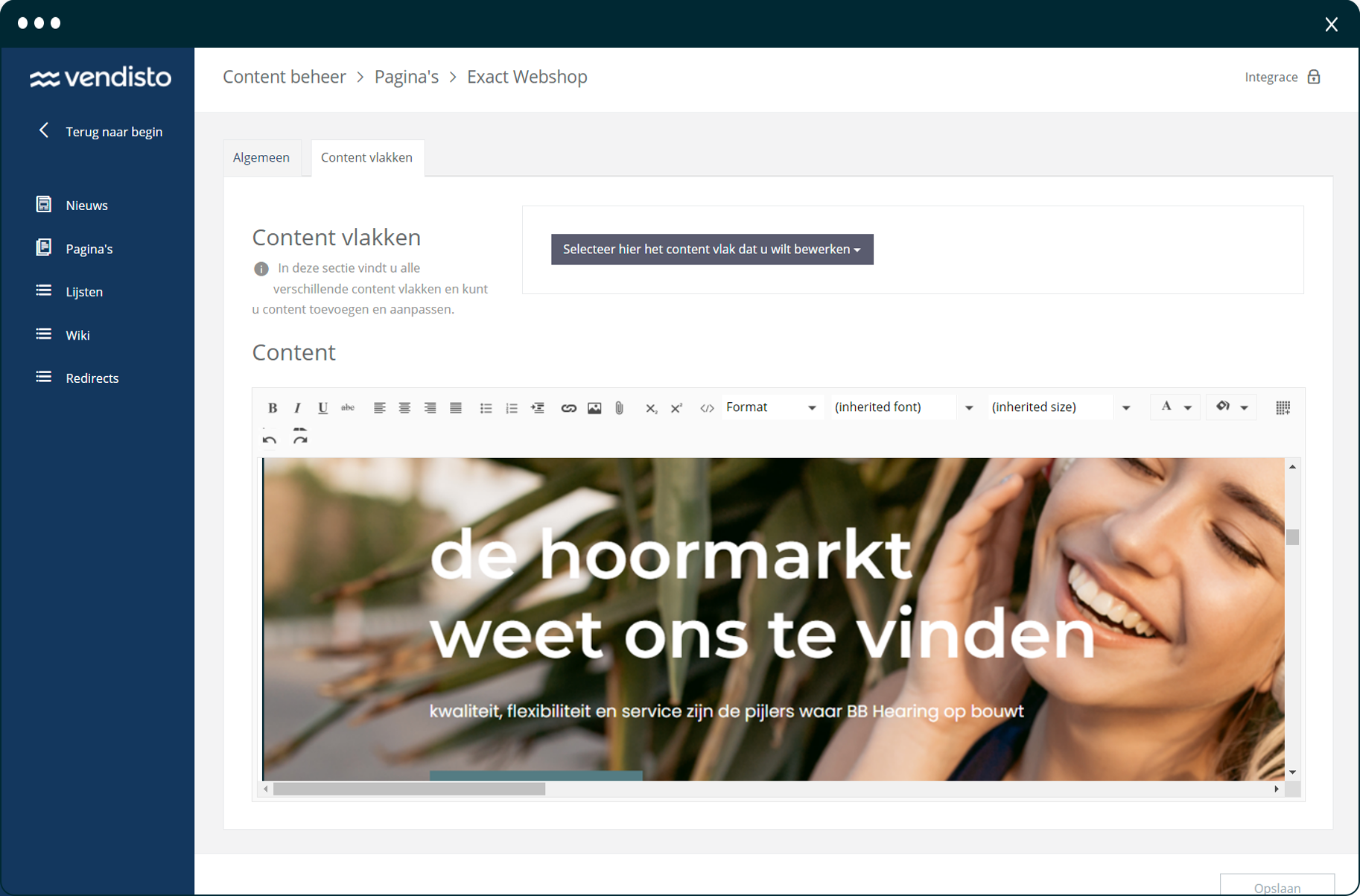 CMS
A web shop consists of more than just product information. You will also want to inform your customers about the ordering process, explain payment options, state your terms and conditions want to show your terms and conditions, and so on.
With the CMS (Content Management System) which is part of every Shoxl Exact Shop you maintain pages with general content. You can choose from predefined templates or pages built by yourself with a drag & drop editor or even pure HTML.
In addition, the CMS also offers modules for creating news items and FAQs.
You can restrict access to the pages you create to logged in customers, or allow anyone access.
Business versus Enterprise Edition
Shoxl Webshops for Exact are available in 2 versions: the Business Edition with all basic features, and the full e-commerce suite in the form of the Enterprise Edition. We list the most important differences.
Design Freedom
In the Business Edition you can choose from various templates (layouts). The Enterprise Edition is based on a custom design. This gives you complete freedom in terms of page layout. You have more content blocks and you can position them where you want.



Unlimited Number of Pages
The Business Edition has a fixed site structure. You can turn pages on and off, but the number of pages is limited (albeit more than enough for a typical shop). In the Enterprise Edition there are no limits.



Advanced Authorization
With Advanced Authorization, you define your own target groups to which you link products. You can therefore create target group-specific assortments. Think of a range specifically for employees of a customer; or different ranges for UK and foreign customers.



Expanded Customer Portal
In the customer portal within the Enterprise Edition, the customer will also find billing information, a backorder overview and a download section. In the Business Edition, the customer portal displays order status/order history and the favorites list.
More Advanced Exact Integration
In addition to the information that is synchronized in both versions (prices, customers, stocks, orders) the Enterprise Edition also supports: multiple warehouses, products, multiple contacts and invoice history.
Multiple Storefronts
In the Enterprise versions you have an unlimited number of Storefronts. You can therefore define multiple stores on the same product range. Think of a store with your full assortment for your regular customers, brand shops for passers-by, and so on.
Choose the plan that's right for you
Webshops for Exact are available in three variants: up to 20,000 SKUs, up to 50.000 SKUs, and above. This applies to both Exact Online and Exact Globe, and to both the Business Edition and the Enterprise Edition.

Business Edition
For Exact Online
€4950 one time

from €499 per month
Enterprise Edition
For Exact Online
Let's talk.
Too many components to quickly price but we are happy to list them for you!
Business Edition
For Exact Globe
€8950 one time

from €699 per month
Enterprise Edition
For Exact Globe
Let's talk.
Too many components to quickly price but we are happy to list them for you!